Do you want to take your contact and turn them into business deals?
Stop sitting on the sidelines and make action happen in your network?
That is why we created this Social Agent Business Relationship Connection CRM Notebook: Keep Track of Your Business Meetings For Growing More Business Deals Journal.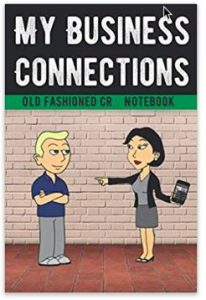 Buy On Amazon Now!
This modern and useful 6 x 9 inch (15.24 x 22.86 cm) blank college-ruled journal tracker notebook has been specially hand-designed for every kind of sales rep, from full time sales expert to budding business development specialist. Each page is a chance to really stand out, remember those million dollar ideas and locations, and grow yourself personally when you make progress in your sales and business development career.
The perfect companion for you when you are out on the hunt for new business deals
How does this sales agent notebook work?
You can preview the layout in the "look inside" button at the top – but it is pretty practical and what reps have been using for years to crank out amazing deals for their companies and personal living:
Take a contact you are out looking to make a business deal with and get that appointment

Take notes during the meeting

See if there are any ways you can make some deals happen and action points

Pin a business card or draw notes down

Flag this as someone to come back to later or not.
How does that sound? Using a social agent journal is a great way to ensure that each day you are prospecting, finding out when is the best time to contact and prospect, and have a bit of fun too! See how many deals you can crank out in one sitting and enjoy the results of more creative output.
Who Is This Sales Prospecting Journal For?
Great gift for any extrovert – a sales rep, pharma sales, business development specialist, BD professional, social media connector, and other influencer pros.
Let's get to the summary and facts:
6" x 9" Paperback notebook
120 pages of high quality white paper (60 sheets)
Quality, Soft matte coated cover
Perfect for writing using pens, pencils, gel pens, ball points.
Used as a journal, notebook or just a composition book
Great size to carry everywhere in your work or school bag, get to high school, college, office, or just to brainstorm
Makes a great present: Christmas gift, stocking stuff, birthday, office secret santa, etc
So what are you waiting for?
Grab this practical and useful social agent notebook today and start generating business deal ideas more in a systematized way. Creating just a little bit more output each day will yield amazing results, and a journal like this is your ticket to continuous improvement – make it happen!