Today I am excited to give a sneak peak about a new project we're working on here at Social Agent – the White Label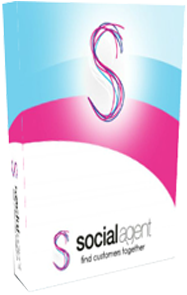 or Enterprise version. This is due to quite a few of our users already have their own agents, and want to use the power of the Social Agent system in their own "ecosystem", their own brand, and on their own website domain.
We're still working hard building out this feature, but have been working with early clients on it and want to also start to spread the word to our blog readers.  And I love feedback, so please feel free to always just reach out to me at mike @ socialagent.me or tweet me @michelini on twitter.
So what does this mean for current users? Nothing is currently changing on the marketplace that we currently have, so please do not get lost – this is just a new feature and addition for those medium to large sized companies that want to use our system with their own brand and logo on their own website. We may invite current agents who want to opt in to receive alerts on these larger companies offers – to allow them to get a chance to work with them.
So again there won't be any changes in the current system due to this update, if anything it will further grow our knowledge and functionality of the system from working with these larger enterprise businesses.
How to get involved with this new white label version? We setup a landing page on SocialAgent.me/your-own-market where you can fill out your contact details and I or someone from the Social Agent team will contact you.  And of course, any other ways you feel comfortable chatting with us also works, direct email, calls, chats, social media.  We want to have you engage with us.
After you reach out to us, we will evaluate your current needs and requirements and work out a special package.  Normally our current white label users want to have it point to their domain via a Cname record (in DNS settings) and also upload/change the logo / brand from Social Agent to their own company.
There are some cases where custom features that we currently haven't built have been requested, and on a case-by-case basis we can make this happen for your account too.
How much will it cost?  We are working on a standard price, and over the next month we are building out an online "click to setup" with a chart of various plans – but for now, we will make custom pricing for each user.  Depending on the amount of custom requirements the business user has, the price will vary.
This is the first message of many in this exciting new development!
To get started, please check SocialAgent.me/Your-Own-Market